ThroughMyEyes: A Story of Hope
A Book by Bob Whitworth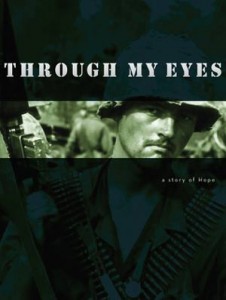 Reviewed by Michael Copeland
It is not only the story of one man, but also of his platoon; one that can be identified with by every combat infantry soldier. You will relate with him, either because of your own experience, the experience of someone you know, or because you've wondered how you yourself might have endured a similar situation.
Bob Whitworth was twenty years old when he was drafted into the U.S. Army in June of 1967, to fight in the Vietnam War.
Forty years later, prompted by a Vietnam veteran's request for information, Bob sat down to write a book about his experiences as an army grunt in the Americal Division, 21st Infantry, 4th Battalion, 11th Brigade, during his time in the Republic of Vietnam from April 1968 to April 1969.
Through My Eyes is a detailed account of a "boots on the ground" soldier carrying out orders in the toughest of conditions that would claim the lives of many good men he knew well and considered friends. Bob's unwavering faith and trust in God were ever present as he and his brothers in arms engaged in heavy combat, ambushes, unrelenting heat and humidity, leeches, and the threat of malaria. Through My Eyes chronicles how this carefree young man from Delano, California, learns to push wisely into his greatest fears to survive under unearthly conditions.
I read Through My Eyes at the recommendation of one of my colleagues. While I had known uncles, cousins, and many family friends who had served in Vietnam, Bob's book gave me a firsthand account of what day-to-day life was like for these brave young men fighting an unpopular war half a world away.
There have been numerous books written by military tacticians and officers who gave orders to the grunts who carried them out. However, this book's refreshing viewpoint comes from the grunt's perspective, where orders were sometimes received from young officers who were less informed and less experienced than the men they commanded.
Bob's candid writing style engages the reader as he describes the stressful battle conditions and horrendous living conditions, as well as the lighthearted pranks his fellow soldiers played on one another to relieve the anxiety and fear they faced as they continued to get their job done in order to survive the hellacious circumstances of war.
Bob Whitworth's engaging memoir can help families comprehend what changes soldiers once they go into battle. It may also assist returning soldiers find courage and hope as they resume civilian life after their wartime experiences. Interestingly, Bob's photo on the book cover may be a familiar image to anyone who recalls the iconic photographs from the Vietnam'War. Taken by an AP photojournalist on September 25, 1968, following a fierce battle near Tam Ky, Vietnam, this photo of Bob's battle-weary face was used in media coverage around the world.
In addition to the photos Bob himself took while serving his stint, he also carried a Fujica 8-millimeter camera capturing some incredible footage of his time in the field – which he sent home, along with letters and hand-drawn maps, which later helped him re-create memories while compiling the book.
Through My Eyes is a beautifully crafted memoir, filled with rich text, letters Bob mailed home to his family, and photos taken by Bob. Additionally, Bob has filled the pages with several maps of the areas in South Vietnam where his unit patrolled. Finally, there is a glossary of military terms and a collection of Bible passages that brought Bob comfort during his darkest times. Bob's candor and honest perspective spoke to me about friendship, courage, and faith amidst the hardship of war – which he helped me see through his eyes. *
THROUGH MY EYES: A STORY OF HOPE By Bob Whitworth Aperio Press Print $24.99 Average Amazon Customer Review: 5.0 out of 5 stars To purchase, follow links from listing on Amazon.