"Freedom is Precious" Says Bob Whitworth, Author of Through My Eyes: A Story of Hope
July 7, 2012 by Michael Copeland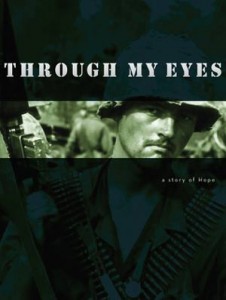 Bob Whitworth was twenty years old when he was drafted into the U.S. Army in June of 1967 to fight in Vietnam. Forty years later, he sat down to write a book about his experience as an army grunt in the American Division, 21st Infantry, 4th Battalion, 11th Brigade in the Republic of Vietnam from April 1968 to April 1969. Through My Eyes is a detailed account of a "boots down" soldier carrying out orders in the toughest of conditions that would claim the lives of many of the men he knew well and considered friends. Bob's unwavering faith and trust in God were ever present as he and his brothers in arms were engaged in heavy combat, ambushes, unrelenting heat and humidity, leeches and the threat of malaria. Through My Eyes chronicles how a young man from Delano, California, a small farming town in the central valley, learned to push through his greatest fears in order to survive under unearthly conditions.
I read Through My Eyes at the suggestion of one of my colleagues, Bob's son-in-law Chris, who was obviously very proud of his father-in-law's literary effort. While I had known uncles, cousins and many family friends who had served in Vietnam, Bob's book gave me a first hand account of what day to day life was like for these brave young men fighting an unpopular war, half a world away. "There have been numerous books written by officers who gave orders to 'grunts' who carried out the orders. I wrote about the 'in your face' happenings of a field soldier," Bob shared with me while we talked over coffee in Danville one morning. "Writing this book forced me to revisit my time in Vietnam very closely and that wasn't always easy."
Several years ago, Bob received a call from one of his Vietnam buddies looking for information about one of the men killed during a battle in which Bob had fought. That battle, as well as his other war experiences, was not something Bob normally discussed. Several people who read Bob's account of that time near Tam Ky encouraged him to write more about his service "in country." Through My Eyes is a beautifully crafted book, full of rich text and photos taken during his year of active duty. Additionally, Bob has filled the pages with maps of the areas of South Viet Nam where his unit patrolled and letters he sent home. Finally, there is a glossary of military terms and a collection of Bible passages that brought Bob comfort during his darkest times. Bob's candor and honest perspective spoke to me about friendship, courage and faith amidst the hardship of war.
"Once I decided to write the book, I looked for a potential publisher. What I found was the timelines and budgets were going to limit what I wanted to do. Thankfully I found other resources, including editors, format and layout consultants that were available to me. My wife was also a huge help taking over quality control of the project." Additionally, Bob talked with other authors and ultimately chose to self publish the book.
The cover of the book utilized a photo taken of Bob by Dana Stone of AP Worldwide Photos on September 25, 1968 following a battle near Tam Ky Vietnam. In addition to the photos Bob took while serving his stint, he also carried a Fujika 8 mm movie camera. Capturing some incredible footage of his time in the field, Bob sent the footage home along with letters that helped him recreate memories when putting the book together. Short clip videos are available to view on Bob's website www.throughmyeyesthebook.com.
When Bob returned home and discharged from the service, he married his longtime sweetheart, Beth. Despite prospering as a general foreman in the heavy construction field for the UA Steamfitters Local 342, he continued to struggle with nightmares and haunting memories of combat. This was in addition to the continuing effects of malaria. During this time, Bob depended on the Bible for answers to his deep questions. After 30 years and much persuasion from his wife, Bob visited the Concord Veterans Center where he found someone running a program that truly cared about the Vietnam vet. Since then, Bob has been an active mentor, spending time with soldiers returning from active duty in Iraq and Afghanistan. "Combat experience is the same regardless of the generation, the war or the terrain. Guys want to talk to other veterans who have been through it," Bob tells me. "We help them to assimilate back into civilian life by talking with them about the effect their experiences have on their lives in groups or one on one sessions. Truthfully, it's enriching and beneficial to the volunteers too."
Bob says certain noises will trigger a sensory recall of his fighting time. "My wife always told the kids not to surprise me, but it was the guys that he worked with who enjoyed having a little fun at his expense. "A soldier is trained to appreciate that the first place to be is usually down on the ground to assess the danger when there are nearby explosions, incoming bullets, mortar fire or incoming artillery. It was not uncommon for me to hit the ground on a job site when someone intentionally dropped a heavy load nearby or triggered a loud noise just to watch my reaction."
Bob speaks occasionally at local area high schools, where he gives mostly history class students a true understanding of what a soldier experiences, living life out of a backpack. He is also in discussions to present the book through readings and book signings at a variety of clubs and venues. The above referenced website is as sharply designed and professionally laid out as the book itself. One link that caught my attention was Bob's Principals for Living. This collection of common sense basics are principals for living a good and decent life from someone who has been to hell and back with a cherished perspective on life.
Bob, who is now sixty-five, lives in Concord where he and wife raised their two children and enjoy spending time with their four grandchildren. Bob is relaxed and easy going in his retirement after leaving the construction industry for health reasons. He is a man who exudes honor, integrity and a strong moral compass. "My dad placed a lot of emphasis in his faith and I deeply admired him," Bob says. Following his father's example, God gave Bob guidance in a time of need. "When we're faced with challenges in our lives, some of us choose to embrace a higher power. Our country's freedom of religion is nothing to be taken lightly."
Bob feels strongly that we should all be willing to give something back to our country. "It's easy to take life for granted when you're safe and comfortable. However, those who are willing or obligated to teach, counsel, labor or serve in the military do get a chance to see the world. Big lessons are learned when you observe what other countries don't have and how lucky we are here at home." He should know, he's seen it through his own eyes.