Concord vet writes memoir of his battle experiences to garner appreciation for the military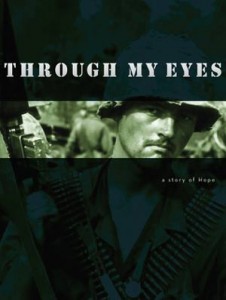 Reviewed by Janice de Jesus
CONCORD — When Bob Whitworth was drafted by the U.S. Army in 1967 and served as a combat infantryman during the Vietnam War, he'd witnessed horrors that to this day remain vivid in his memory.
"The minute we stepped off the military base, there were snipers, ambushes, land mines in a jungle so dark you couldn't even see your hands," said Whitworth.
In his early 20s, Whitworth said he faced the fact that his life, which was just beginning, could possibly end in a blink of an eye.
Forty-five years later, despite his best efforts to put the past behind him, Whitworth has written a book that has actually led him back to some of the most horrendous parts of his life — the atrocities of the Vietnam War.
His memoir, "Through My Eyes: A Story of Hope," is exactly that — his stories of war that he would rather forget but that still haunt him today. Whitworth said he didn't write the book as a cathartic process toward healing, but when his Army buddy contacted him about a story of a battle where his friend's brother was killed, many encouraged Whitworth to continue to tell his stories about the war.
"We don't talk about what we got into. When you read the stories, you'll know why we didn't talk about it," said Whitworth, a Concord resident. "It is so brutal when your friends are killed in front of you, when you're trying to stop it and you can't stop it."
"All the soldiers wanted was to do their job and stay alive," he said.
"I want readers to gain appreciation for what the military does everyday to keep them safe," Whitworth said. "There are men and women out there — someone's out there guarding us so we can sleep at night."
"The cost that soldiers pay to keep the country safe remains evident in the traumatic memories that haunt them for years," said Whitworth, who volunteers his time as a mentor at the Concord Veterans Center.
"Post Traumatic Stress Disorder is a real issue," he said. "Memories can lay dormant for years then come back alive, almost like present-day, and you don't want them to. We just carry this for the rest of our lives."
As Whitworth continues to talk to veterans at the Concord Veterans Center, he has also spoken at churches and Rotary clubs and hopes to talk to more schools about the stories of war and the sacrifices the military makes.
He will speak to students at the NorthCreek Academy in Walnut Creek on Nov. 9 and the Cost of Freedom Tribute over Veterans Day weekend at the Sonoma Veterans Memorial Building.
While serving in Vietnam, Whitworth said that his faith and keeping a pocket Bible helped get him through his experience. On his website, www.throughmyeyesthebook.com, he's posted "Bob's Principles of Living," a manifesto of philosophies he learned about living life to the fullest as a result of his wartime experience.
"We learned things that were useful, like what friendships do for you," he said.
Whitworth's wife Beth, whom he married in 1969 a month after he came home from Vietnam, helped her husband locate his Vietnam War buddies.
"My wife found 28 of them," he said. "When you suffer with somebody, you never forget them."
Beth Whitworth said her children gained a greater understanding of their father's trauma when the book was published.
"It was hard for him to get started on the book — difficult and painful," she said. "Our daughter was concerned at first that people wouldn't get or respect the (emotional) price he paid to write the book. But over time she saw how important it was for him to get the message out."
Whitworth's wife said the stories in the book may help wives of combat veterans understand their husband's issues.
"I believe that combat experience for military personnel is never really over," she said. "They do their best to bury it. Combat veterans do not talk to their families about their experiences. The wives who are in these relationships feel lost. It's important for wives of combat veterans to know who they're with and understand what they went through."
Denver Mills understands the harrowing experiences of war — he's lived through it himself. As executive director of the Concord Veterans Center, Mills said Whitworth serves as a role model to the "young warriors," local veterans of Desert Storm, Iraq and Afghanistan.
Mills said that as Whitworth was writing the book, he continued to faithfully talk with veterans at the center.
"When these memories rattle around inside the brain, the person feels powerless," said Mills, a Pleasant Hill resident. "By writing this down, he has relieved a lot of his pain through the years."
Whitworth credits Mills for his compassion and support when Whitworth needed someone to talk to at the veterans center.
"I was lucky to be the person there for Bob," Mills said. "Now, he's moved on to help other veterans. He's really been a leader in this mentoring program helping young veterans cope with the everyday things they may be frustrated with. He shows them that, 'I've been through what you've been through. You will make it through. There's hope.'"
Vietnam veteran Bob Whitworth Sr., 65, of Concord, sits with his rucksack at his home in Concord, Calif., on Friday, Nov. 2, 2012. Whitworth served in the U.S. Army from 1968-1969. Whitworth wrote a book called "Through My Eyes, A Story of Hope." (Jose Carlos Fajardo/Staff)